*Time for annual oil change kits.  Keep your drive in top shape!  In the US, $16 USD, Canada, $21 CAD.
For my customers, I have extra instructions for repair issues. Files can be emailed for quick assistance, or you can call me toll free with questions or to order parts.
Call 1-888-403-9012, or email john@hydrobikeparts.com
Pre 2014 Hydrobikes: In the illustration, above right, you will see the friction lock lubrication point. A couple drops of oil in this spot is needed from time to time to keep your drive pivoting freely and preventing undue lever arm stress.
Referring to the illustration, above left, change the drivetrain oil annually to ensure an adequate and fresh supply of internal gear lubricant.
Drivetrains are built commercially tough. With regular oil changes they will work flawlessly for years. When you have trouble, we can repair or rebuild your drivetrain to factory standards. We supply all original parts for the do it yourselfers. I have instructions, pictures, and a toll free helpline to help get you back on the water.
Check for drivetrain leakage from housing screws and propeller seals. Watch for fishing line wound around the shaft which can cut the seals and create oil leakage. We keep seals in stock.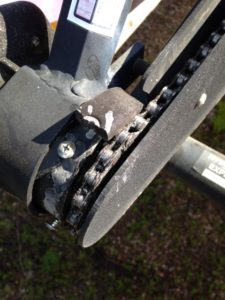 look for signs of a worn or deteriorated friction lock.  if you chain keeps coming off, it quite often time for a friction lock replacement.  this part keeps the drive firmly in place in the frame hub.  when it loses function, the rear sprocket will wobble and your chain will continually fall off.